Home » boats & gear, cross training, racing, training
12 Pictures and Reflections from 2006 Paddling and Racing
Submitted by Marek on July 14, 2017 – 8:56 pm
I just dug out the 11 year old post summarizing my paddling activities in 2006…
Paddlewise, it was probably the richest year in my 45 years of paddling: the first Watertribe Ultimate Florida Challenge and the first Missouri River 340 race. Arguably, the 2002 year when I started long distance paddle racing with Texas Water Safari, had more impact on my paddling life.
A lot of things have changed since 2006. Some new boats, cameras and gadgets. My local races are gone. My internet activity moved from blogging more to social media, Facebook and Instagram. I've always been mostly a solo paddler, but now, I am strictly self supported paddler and racer.
OK, here are my reflections on 2006 paddling year.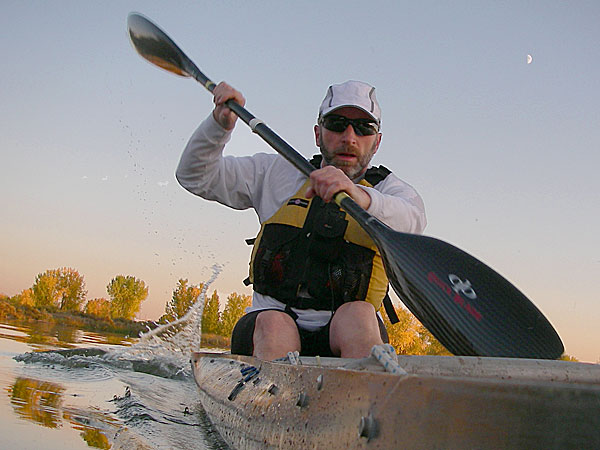 I always carry a camera or cameras with me when paddling and often during any other outdoor activities. It is quite evident from this blog.
My personal challenge is to photograph paddling races from the racer perspective. It became possible with arrival of compact waterproof digital cameras. I ordered the original Pentax Optio WP as soon as it was available in the spring of 2005 to race and photograph Texas Water Safari. I continue shooting pictures during my training and racing.
This year I updated Pentax Optio WP to W10 for its improved video capabilities and did a lot of experimentation with shooting video and pictures in an interval mode. I use the camera as a helmet cam or mounted on a kayak deck with a suction cup sticky pod.The Glenwood Canyon movie is a results of these recent experiments. I am trying to share some photo tips on these pages.
I am not planning to buy anything new for my paddling photography next year. Well, I would like to get some day Canon EOS 5D for a more general photography.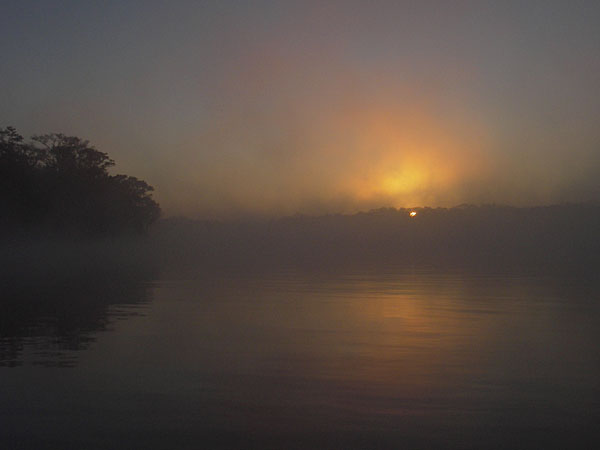 It has been my biggest paddling project so far. 1200 mile WaterTribe race around Florida with a 40 mile portage between St Mary and Suwannee Rivers. Almost a year of preparations. I paddled my Sea Wind canoe with a Pacific Action downwind sail.
The race didn't go for me as expected. I had to dropped from the race on Florida Bay with an assistance from the Coast Guard. After a week of recovery I paddled across Florida from Fort Clinch to Cedar Key. I brought from this trip more than 1500 pictures, several video clips, and a lot of reflections which are going beyond paddling and racing.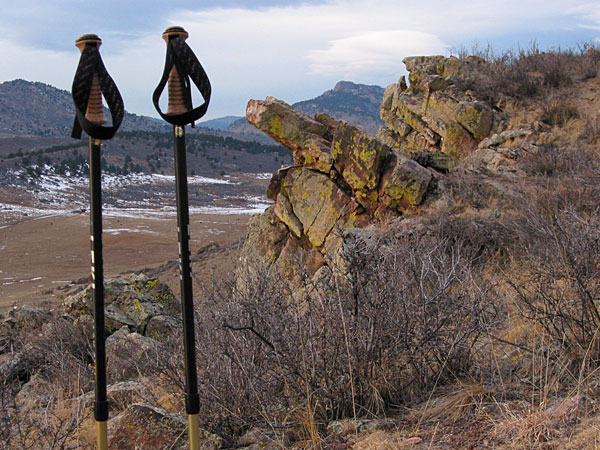 Paddling is my main activity and with my fleet of boats I can enjoy different styles of paddling. Of course, I am doing also other outdoor activities as crosstraining. I always prefer to exercise outdoors than going to a gym.
I started inline skating in August of 2005 in preparation to the 40 miles highway portage during the Ultimate Florida Challenge. My portage pushing Sea Wind on inline skates was quite successful and skating remains one of my favorite outdoor activities. We have a well developed bike trail system in northern Colorado, especially, along the Poudre and Big Thompson Rivers. I also skated along Colorado River in Glenwood Canyon.
My other outdoor workouts include road biking and fast hiking with trekking poles. I somewhat neglected mountain biking during this year. If I really don't feel like exercise my newfoundland girl, Dax, can take me for a power walk.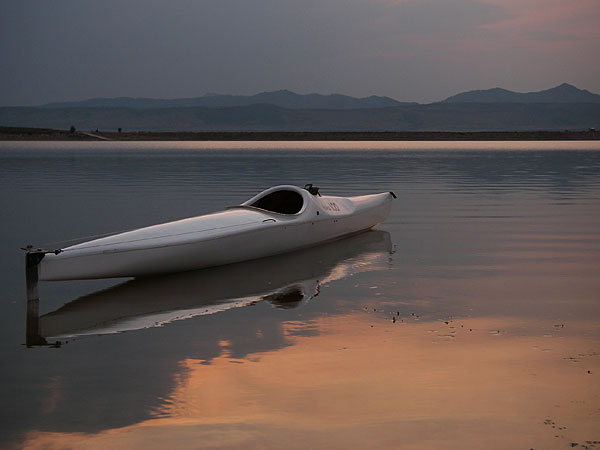 In 2004 and 2005 I did a lot of paddling on small rivers in northern Colorado exploring new segments of Cache la Poudre, St Vrain and Big Thompson Rivers. This year my river paddling season in spring was shorter and there was no water release from Horsetooth Reservoir to the Poudre this fall. So, I did much less of river paddling, except winter trips on the South Platte. Nevertheless, I added a few miles to my paddling on the South Platte above confluence with St Vrain and extended my paddling on the North Platte to Dugway above Seminoe Reservoir.
I also discovered for myself Boedecker Reservoir in Loveland. Most my paddling workout this year took place on a small Beaver Pond in Arapaho Bend Natural Area in Fort Collins and on Lonetree Reservoir.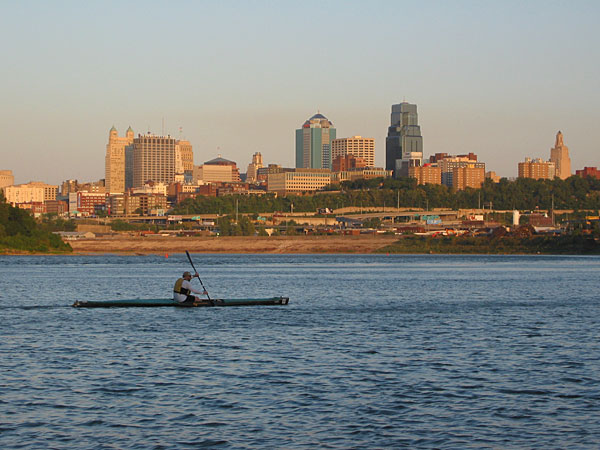 It was another big race for me this year. 340 miles from Kansas City across the state of Missouri to St Charles. I paddled my safari boat, Spencer X-treme canoe, in a somewhat relaxed mode shooting a lot of pictures, see my GPS photo log and MR-340 posts in the fit2paddle blog.
It was interesting to see how this new ultra marathon race was being born earlier this year. There is a very active discussion about 2007 race format and a new Kansas River 50 Race on RiverMiles.com forum.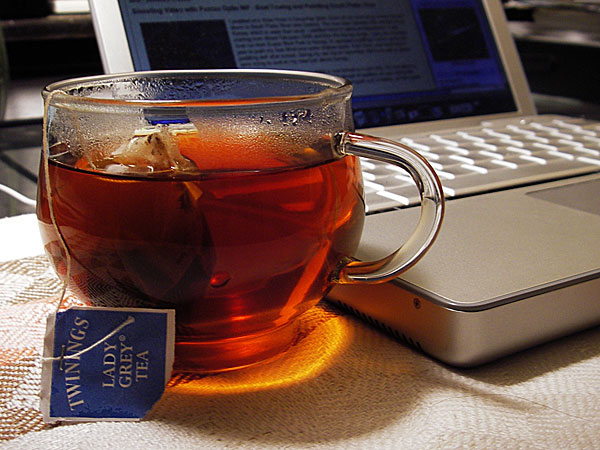 In addition to my original Mountain Wayfarer site I maintain three paddling blogs: paddling with a camera, i.e., this blog, fit2 – fitness paddling, and virtual race.
The virtual race was moved this year to a new blog format. I also moved my old paddling and photography blog to my own domain (with the name changed to paddling with a camera).
I did not experience any rapid growth of my blogs, but I am keeping them running. To cover my web hosting and software costs I run three advertising programs on my sites: Amazon, Yahoo Publisher Network and Chitika.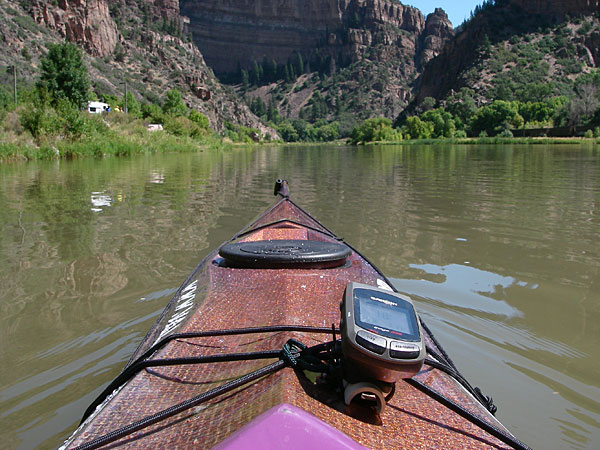 There is not much flatwater racing in Colorado. The Dotsero Race, 10 miles on the Colorado River in Glenwood Canyon organized by Canoe Colorado is the only regular annual event. Three easy rapids with standing waves are adding some spice to that run.
Third year in a row I paddled my Sisson Nucleus kayak. After the race I had occasion to try two racing kayaks: Valley Kayaks Rapier 20 and WSBS X-par Missile. I decided to get a faster kayak. Next year, I will not be able to make excuses that my boat is slow …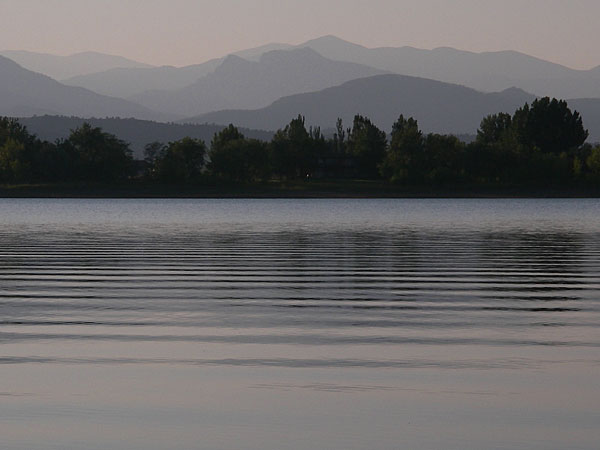 I am using Google maps API to prepare on-line reports from paddling and racing. The GPS/photo log from the Missouri River 340 Race is just an example of my attempts. I am working on a guide for paddling destinations in Colorado and Wyoming. I also hope to complete a river guide for the South Platte during this winter.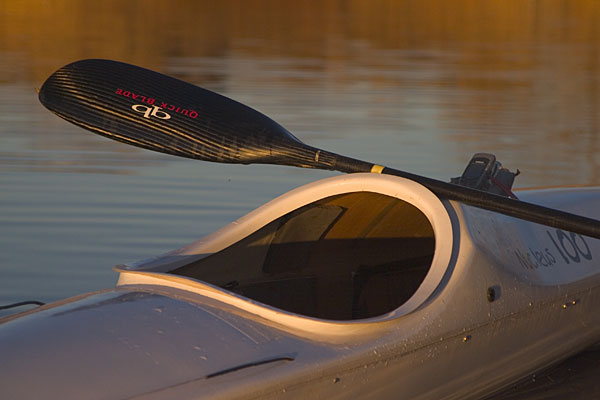 It is the third season of virtual racing. The idea is to paddle the race distance, 5 or 10 miles, on a closed loop, record your distance and time with GPS and submit results for posting. There are many participant with different skill level and background form different parts of the world. There is a point systems which premiums paddlers entering the race with more than one boat. This provides opportunity to compare different boat under the same paddler.
I was racing mostly with Sisson Nucleus, but I had also entered in Spencer X-treme canoe and Kruger's Sea Wind. The virtual race will continue.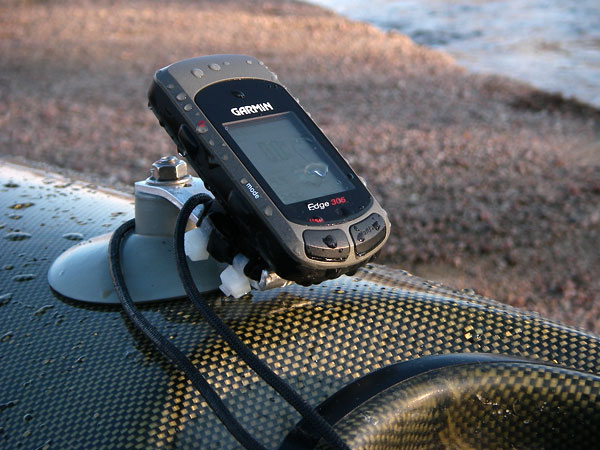 I started to train with Garmin Edge 305 , a GPS device with a heart rate monitor. It is a great motivational gadget, especially, that all workouts can be downloaded into a computer. It is possible to program your workouts. It is also easy to record a virtual race.
The Edge 305 is designed for biking and comes with mounts for bike handlebar or frame. There is even not possible to attach any tether directly to this unit. So, it provides some challenge how to mount it on a smooth kayak deck. I fabricated and used a very simple foam mount with a piece of pvc pipe. Recently, I switched to a mount based on a sticky pod suction cup, the same one that I am using for my Pentax Optio camera.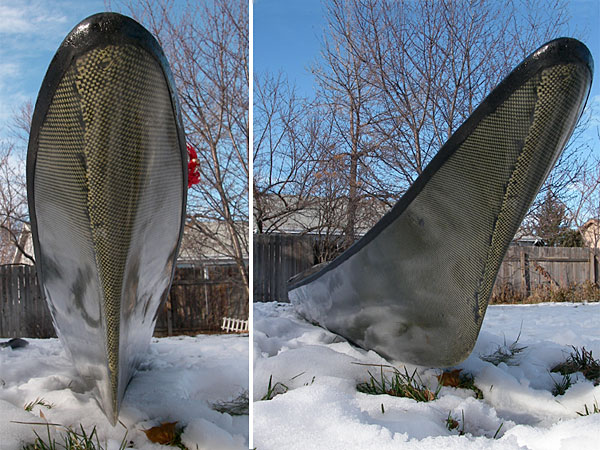 In the beginning of December, 21'x18″ Thunderbolt-X, a racing kayak from West Side Boat Shop arrived to my home. Despite of winter time I am taking Tbolt for paddling on South Platte River. My goal for the next months is to master paddling in this kayak and then paddle in races from 10 to 50 miles. Maybe longer?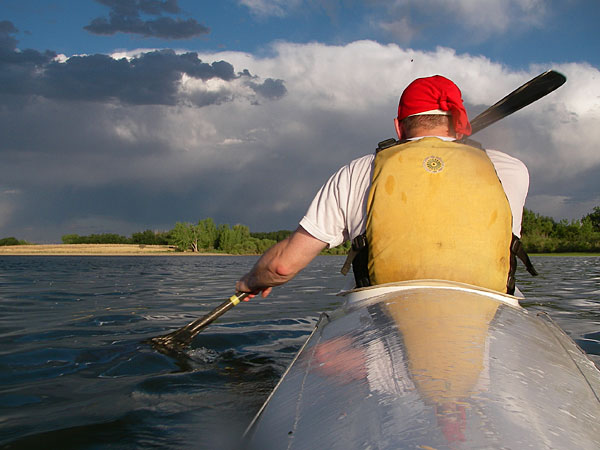 My paddling plans for 2007 will evolve around some long distance races: Wyoming Outback Challenge, Kansas River 50 and Missouri River 340. I also hope to participate in one of Texas races: Texas Water Safari or Colorado River 100.
I am not driving to Florida next spring for another WaterTribe challenge. I try to participate in them every second year. It will give me time for more paddling on local rivers and training with Thunderbolt. Of course, I have more ideas for paddling trips, e.g., Dismal River again or Mineral Bottom to Potash on Green and Colorado River in Utah.