Home » South Platte
2009 South Platte River Marathon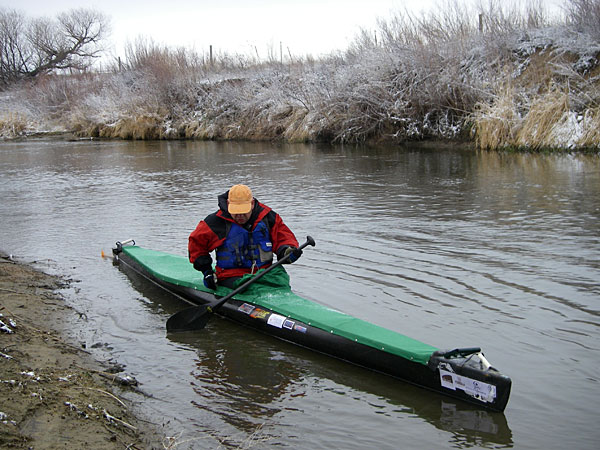 2008 South Platte River Marathon – Rob Bean on St Vrain Creek preparing for the start
The South Platte River Marathon scheduled for April 25, 2009 covers 31 miles along some popular and less known, but scenic river segments. It starts on St Vrain River about 1 miles above its confluence with the South Platte and ends at Kuner. This is unofficial and unorganized race, so your are totally responsible for what are you doing on the river. The river flow looks good due to recent wet weather.
Date: April 25, 2009
Start: About 8 am at Wildcat on St Vrain – county road 19.5 (north of St Vrain Fort Power Station, take 245 Mead exit from interstate 25 and drive east to CR 19.5), see map. We can consider a staggered start (in that case the first paddler will start before 8:00).
Length: 31+ miles. 5 short portages over diversion dams – you have to portage all dams.
Shuttle. My wife Connie will help with a shuttle – we can take one extra boat and up to 3 paddlers from Kuner. So, we are not running a shuttle before the race.
Please let me know if you are going to attend.
I paddled the marathon course alone 4 years ago. It took me 4:39 in Spencer X-treme canoe with a pretty good flow of 1600cfs at Kersey. Last year I raced with Rob Bean at much lower water level (~450cfs) and took me 5:46 in Thunderbolt-x kayak. If you are familiar with the 9 mile upstream Rotten Egg race, the marathon should take you about 1 hour longer, but with much lower effort and you don't need to paddle back to the start.
mileage
landmark
0.0
start – Wildcat on St Vrain Cr
shallow river, possible strainers and fallen trees
1.2
confluence with South Platte River
the most scenic part along cliffs of Wildcat Mound
6.1
Union Ditch Dam
short portage on left
6.9
highway 60 east of Milliken
river access: left above the bridge
9.3
Union Pacific Railroad Trestle
9.7
Godfrey Ditch Dam
portage right from a channel
14.9
Lower Latham Ditch Dam
normal or high water – portage left around rock dam to the old river leg (before entering the channel with steep banks leading to dam gates)
low water – portage at the end of channel between gates (steep, maybe dangerous at high water)

16.7
Evans Riverside Park
river access on left shore
18.7
Patterson Ditch Dam
portage right over the dam
21.2
Plumb Ditch Dam
portage left
25.8
highway 37 – Kersey
river access – left below or under the bridge
31.3
finish – Kuner – county road 61
land before the bridge on left (different from the last year!)
31.5
Empire Ditch Dam
you paddled too far!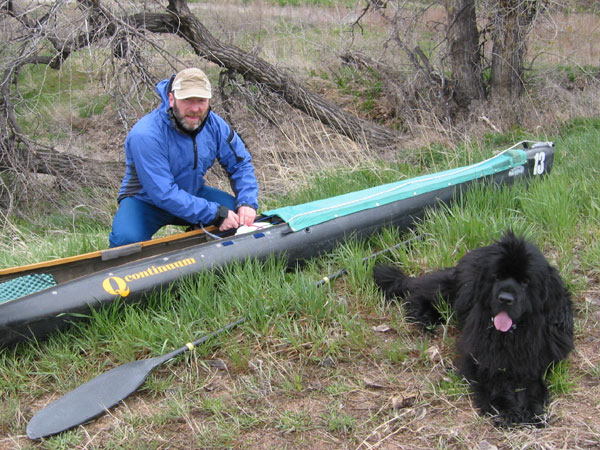 2005 South Platte River Marathon – Marek and Dax preparing for the start on the shore of St Vrain Creek
Related posts:
32 Shallow Miles of the 2008 South Platte River Marathon
2005 South Platte River Marathon
South Platte River – GPS/photo map and guide
2009 Rotten Egg Race – Results, Pictures, Handicap System
2nd South Platte Upstream "Rotten Egg" Race – Results