Home » gallery, MR340, news
5 Years of Missouri River 340 Race in Reports, Pictures and GPS Tracks
Submitted by Marek on July 8, 2012 – 9:41 pm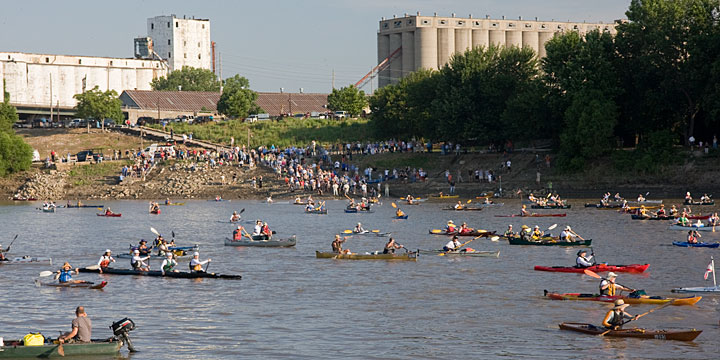 The 7th Missouri River 340 (MR340) Race starts on July 31, 2012 with a record number of boats and paddlers – see roster. I paddled the first 5 races missing the last one postponed till October 2011 due to flooding. I used different boats from my fleet:
2006 Spencer Xtreme canoe
2007 WSBS Thunderbolt Kayak
2008 Kruger Sea Wind canoe
2009 Surfrigger outrigger canoe
2010 Kruger Sea Wind canoe
Races in Sea Wind canoe were done without support. And, I always paddled with a camera(s).
Here is a collection (probably incomplete) of my posts, tips, comments, reports, pictures, and GPS tracks form those 5 years. I hope to add more this year.
3 Years of the Missouri River 340 Race series:
Bryan Hopkins, West Hansen, Christina Glauner, Chuck and Di McHenry, Katie Pfefferkorn
My Experience in Three Famous Ultra Marathon Paddling Races
120 Pictures from the Missouri River 340 Race
2010 MR-340
2009 MR-340
2008 MR-340
2007 MR-340
2006 MR-340