Home » gallery, MR340, news, racing
Midwest Kayak and Canoe Racing?
Submitted by Marek on February 17, 2013 – 7:59 pm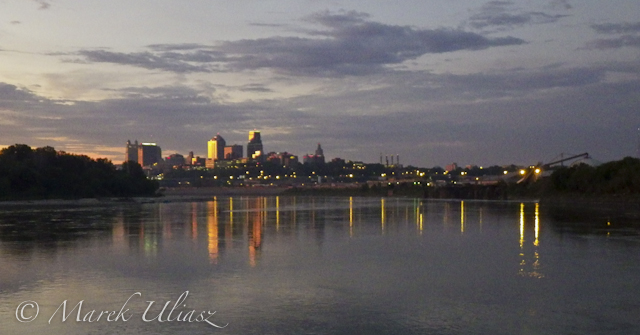 Joe Mann (aka Dark Horse Paddler in racing circles) is developing a new website MidwestPaddleRacing.com devoted to Midwest kayak and canoe racing. He asked me about my view of Midwest paddling racing. What is Midwest paddle racing?
Midwest …
The region consists of 12 states in the north-central and north-eastern United States: Illinois, Indiana, Iowa, Kansas, Michigan, Minnesota, Missouri, Nebraska, North Dakota, Ohio, South Dakota, and Wisconsin. There is a lot of paddling and racing activity in this area, especially, closer to the Great Lakes. It includes such different events like Ausable Canoe Marathon with 50 years of history, Chicago Shoreline Marathon or expedition style Verlen Kruger Memorial Paddling Events. I am also somewhat familiar with Midwest Canoe Association which was founded in the mid 1960's to promote canoeing in Nebraska. However, the number of these traditional canoe races there is declining.
Colorado …
is a neighboring state to Midwest. I've been living in Fort Collins, CO for 24 years. In the past, there were several canoe river races – Colorado River, White River, even the South Platte River. Only the 10 mile Colorado River race from Dotsero to Hanging Lake trailhead in the upper Glenwood Canyon has survived. 12 years ago, it was easier for me to find Texas Water Safari than any racing events in Colorado. It looks like it may be some future for paddle racing here – SUP (stand up paddling) community is growing with some interest for racing. There are also several rowing races on Colorado lakes. Some of them, e.g., Lake DIllon Challenge welcome also paddlers of any kind.
Missouri and Kansas
Joe's website is focusing on Missouri and Kansas. It was a pretty much a blank spot concerning flatwater paddle racing prior to 2006. I paddled the first Missouri River 340 race from Kansas City to St Charles. 15 boats entered in 2006. Since then, MR340 has been my annual racing event. I only missed the postponed 2011 race. You can find numerous race reports, pictures, and articles related to MR340 in this blog.
It was really fascinating to experience the growth of racing and paddling community in KS and MO around the MR340 race. In June of 2006 I wrote an article Is Ultra-Marathon Kayak and Canoe Racing Growing? . MR340 definitely change the geography of ultra marathon paddle racing. This race is relatively easy in comparison to Texas Water Safari or Watertribe Challenges. Anybody in a good health with some preparation and training can finish it even in a slow recreational kayak. Nowadays, you have a plenty of shorter races there to include in your training plan.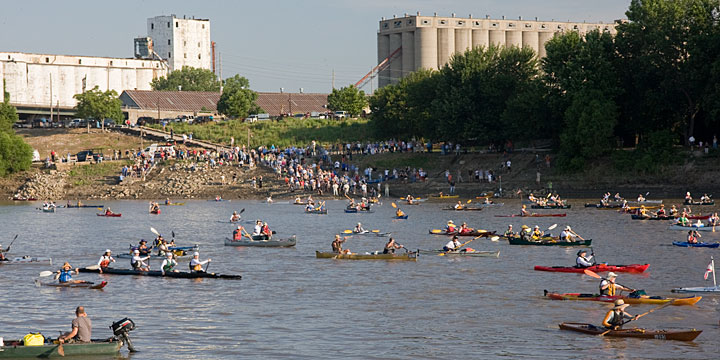 Driving Distance
I have a very pragmatic reason to like races in MO and KS. – a day of driving from CO to Kansas City. It is a long day but it is much easier and more affordable than driving 1.5 days to San Marcos, TX or 3 days to Florida for Watertribe events. I am sure that this factor is adding to popularity of races in that region among other "out of state" paddlers.
Memories
Finally, the Missouri River brings back some memories. A big river, wing dikes, buoys, barges, sand dredges … I had these all on the Vistula River in Poland where I started my paddling more than 40 years ago during my high school years. In turn, the Kaw River is quite similar in character to the South Platte River, my main paddling river in northern Colorado.
Related post:
My Experience in Three Famous Ultra Marathon Paddling Races