Home » MR340
Missouri River 340 Race – 3 Year Perspective by Chuck and Di McHenry
The Missouri 340. Wow! When Di first told me she wanted to do this I was really doubtful. I'd been a downriver racer for 20 years- (a 20-35 minute sprint through rapids) and the idea of going long just didn't appeal to me.
I don't even know how we heard about it- maybe Scott contacted us because we were Missouri DR champs? I thought:
1. Can a person even go 340 miles in 100 hours?
2. Will this be a divorce float? (I knew full well the dynamics of a married couple in a tandem).
3. What's the Missouri like at night – do people camp out, or boat through the darkness?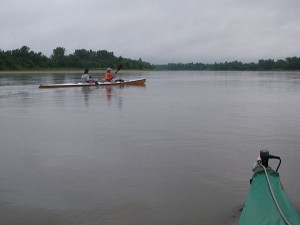 We bought a tipsy Findeisen and started training.
That first year there were 15 boats and little fanfare at the start.
We got to Miami just behind the leader…and stopped to camp! All the other boaters caught up!- but Di and I really covered the miles during the day. We did everything wrong- food, lighting, sleeping, transitions…and still finished second in 67 hours, which was second overall and first in our category. (I don't remember if we were the ONLY mixed tandem. LOL.)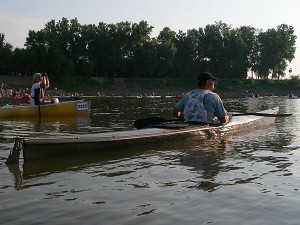 By the second year there were 75 boats, and the fanfare at the start was turned up several notches – a famous football player shot the starting gun, there was music and a crowd. I went solo and stayed with the big boys right to Lisbon Bottoms where I dislocated a rib. It was hard going, but later I would look upon it as proof positive that I could be competitive in this race that I was as fast as the best.
All the river towns turned it up a notch too – boy scouts selling burgers, music, welcome signs (so I hear anyway, the front runners went through too far ahead of the pack so we missed it all). I drifted the last 70 miles. Truthfully I'd wanted to quit, but my support told me I could drift and still finish first among the Missouri boaters, and fourth solo….so I did. 57 hours? I'm glad I did. I got a plaque from the Missouri House of Representatives for my perseverance and athleticism. That plaque beats all my trophies – including my National Championships!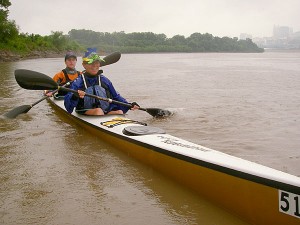 Meanwhile Di and Natalie Courson just kicked rear and took names in their tandem boat- beating most of the men tandems. I watched them coming in during the early evening and thought they were a motor boat! They took a first place trophy and a record.
Di and I started doing other distance races and won in Memphis and Natchez, and the Gritty Fitty. We were both hooked!
Missouri 340 III was proof positive that this race was going to become a national spotlight race. We had 150 boats and almost 200 racers. The start was a carnival atmosphere with helicopters and Hooters girls, and politicians and speeches. Of course, we were in the water waiting for the gun or warming up- but I could see the crowds on the bank. We were worried about so many boats starting at once but it went smooth. I couldn't believe how quickly we all separated, taking positions that pretty much wouldn't change throughout the race.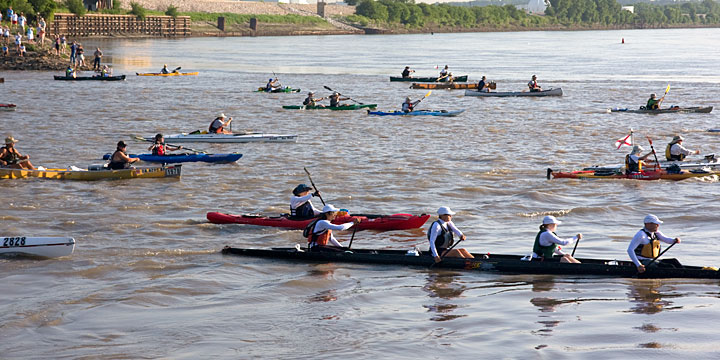 The third race was putting together everything my training, race knowledge, and 57 year old body could accomplish. For Di it was the fun of being in a 4 man canoe with Dan, Zaihem, and Christina. At my age I was thinking each race is only going to get harder- so this is it. Do the effort! I was able to get to the podium for 3rd place (48) hours and 4th best 340 solo time, and again was the first Missouri Boater to cross the line! Di's team finished 3rd place as well- and they had a really good race.
This year's 340 already has 200 boats signed up! Di and I chose mixed tandem because that's where the action's going to be this year! (Although men's tandem's looking more and more like a brouhaha as well.) It's going to be an exciting race with statewide and even national interest. Scott has created a monster. He deserves tons of credit.
And who of those who have done the Missouri 1020 will be at #4? Bryan Hopkins, West Hansen, Christina Glauner, Katie Pfefferkorn, Marek, and Di and I. That's all! I always remember fondly that first group of 15 boats!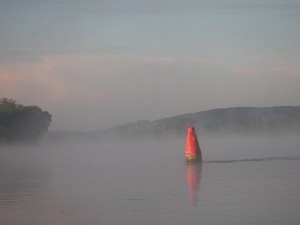 Chuck and Di in MR340:
2006 Chuck and Di, tandem 76:20
2007 Chuck, solo, 57:14
2007 Di tandem with Natalie Courson, 61:09
2008 Chuck, solo, 48:24
2008 Di in team with Abdullah, Glauner, Grubbs 51:24
3 Years of the Missouri River 340 Race series:
Bryan Hopkins, West Hansen, Christina Glauner, Chuck and Di McHenry, Katie Pfefferkorn
Tags: Chuck McHenry, Di McHenry, Missouri River, MR3400