Home » boats & gear, news, racing, training
Surfski Racing.com – Web Site for Racers of All Skills
Submitted by Marek on January 29, 2009 – 3:54 pm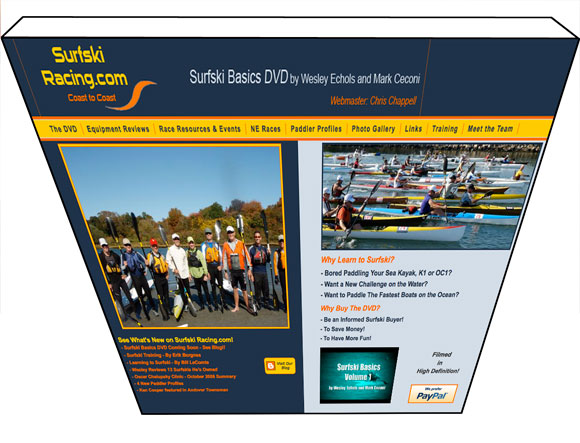 A few days ago, Wesley Echols of Rhode Island, USA announced the launch of a new US surfski website
SurfskiRacing.com. It looks very promising with training tips, boat and gear review, and race information. They also offer the DVD: Surfski Basics for the Beginner – Volume 1
Surfski Basics is an informational DVD for the beginner surfski paddler. By purchasing this DVD you will save yourself time, money, and frustration. The DVD highlights the different types of skis, parts of a ski, remounting, and valuable tips on getting started. Some of the points may seem subtle if you have never paddled a ski before, nevertheless they are important. Once you purchase Surfski Basics and begin paddling a ski, you will appreciate even more, the value of Surfski Basics. Surfski Basics was filmed locally at McCorrie Point, Portsmouth, Rhode Island.
There are some familiar names in paddler profiles. It seems that nobody is paddling Thunderbolts or other WSBS kayaks anymore.
A surfski is definetely on my wish list, but I am not sure when I will afford to buy a new boat. Meantime I am taking my T-bolt for some workout on the South Platte River. A kayak is still better option for winter paddling in northern Colorado. Well, a few years ago I had a chance to test an old and leaking Futura Blade surfski. My testing included some February paddling in a dry suit.