Home » gallery, racing, Texas Water Safari
Texas Water Safari 2010 with a Camera instead of a Paddle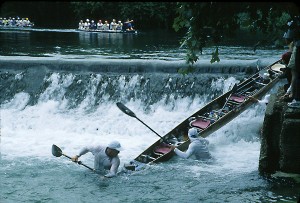 Yucca flowers in front of my Fort Collins house remind me that it is time for Texas Water Safari. This 260 mile nonstop paddling race from San Marcos to Seadrift start every year on the second Saturday of June.
Texas Water Safari was my first racing experience and still remains the most important one. We went to Texas to observe the 2001 Safari, then I finished three races solo: 2002, 2003, and 2005. I couldn't attend the race postponed due to flooding in 2004. Connie was my Team Captain. It appears that she really didn't like that job after all (what a surprise …), but she wrote some good tips for team captains and support crew.
My TWS reports and pictures are still available at Mountain Wayfarer (some links may be broken). I gathered most of these pictures (165) into a slide show below. The far left button in a toolbar opens a gallery page with four picture albums.
This year I am returning back to Texas Water Safari, not in a boat, unfortunately. I am flying to Texas with my camera, so more pictures will be available soon.
Update:
The Texas Water Safari is postponed until July 10th due to flooding conditions on the lower Guadalupe river.
Tags: Carter Johnson, Guadelupe, pictures, race, San Marcos, Seadrift, slide show, Texas Water Safari