Home » gallery, training
Upstream-Downstream Paddling Workout on the South Platte River
Submitted by Marek on February 24, 2009 – 11:48 am
Sunday afternoon, February 22, 2009. 2×4.5 mile paddling workout on the South Platte River: upstream from Kuner and back down the river, about 2.5 hours at moderate pace. Flow at Kersey: ~550cfs.
Four solo kayakers: Jeremy in a wildwater racer, Rob in Spencer X-treme canoe (see his pictures on Facebook), Belen in Seda Glider, and me in Thunderbolt-X kayak.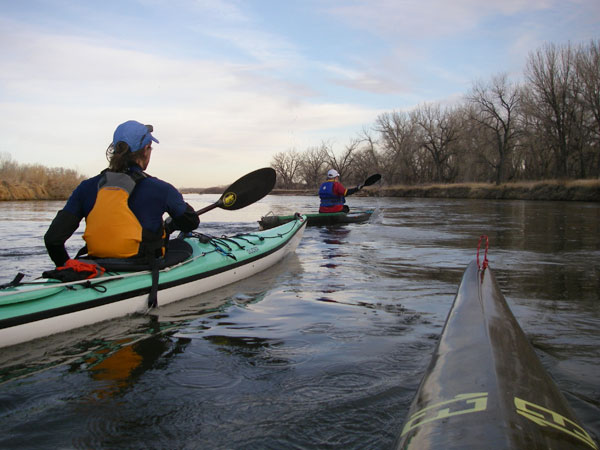 The graph from my Garmin Forerunner GPS shows our speed during this workout. It was possible to maintain about 3 mph when going upstream, but the downstream speed on the shallow river was not so good as one would expect. The river near Kuner and Kersey is slower and deeper than above the confluence with the Poudre River. It is getting even more shallow above Evans.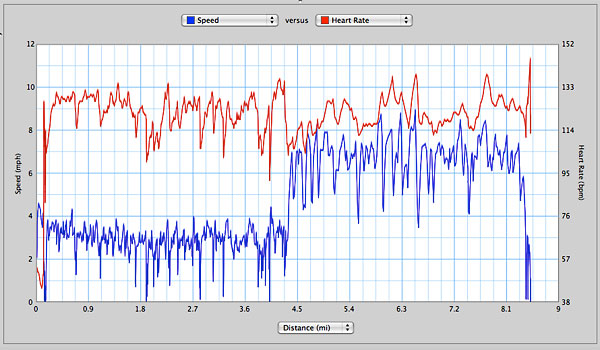 I am trying to do paddling workout on the South Platte every weekend. If you would like to join please contact me. I am sending e-mail to interested paddlers around Thursday with time and location taking into account weather and flow conditions.
I am planning two informal races on the South Platte like in recent years:
(1) 9 miles upstream from Kersey to Evans to join the club down river paddling trip on Sunday, March 22,
(2) South Platte River Marathon from Wildcat on St Vrain Creek to Kuner, probably two weeks later.
If there is any interest we can run more races, e.g., 5 miles upstream from Kersey to the Plumb Ditch Dam as a warm-up.
South Platte River below Denver – GPS/photo river guide
32 Shallow Miles of the 2008 South Platte River Marathon
Tags: racing, river, South Platte, training