Home » gallery, packrafting
Wildcat Mound Run – the South Platte River by Bike and Packraft
Submitted by Marek on June 4, 2011 – 8:31 pm
June 6, 2011 – another biking and packrafting trip on the South Platte River. This time I run the lower St Vrain Creek and the South Platte River to Milliken (hwy 60). This section along high cliffs of the Wildcat Mound is perhaps the nicest part of the river below Denver.
I made some improvement to my packing and used the same shoes for both biking and packrafting. My new Keen Newport sandals worked pretty well except of few cases of walking through loose gravel on the South Platte.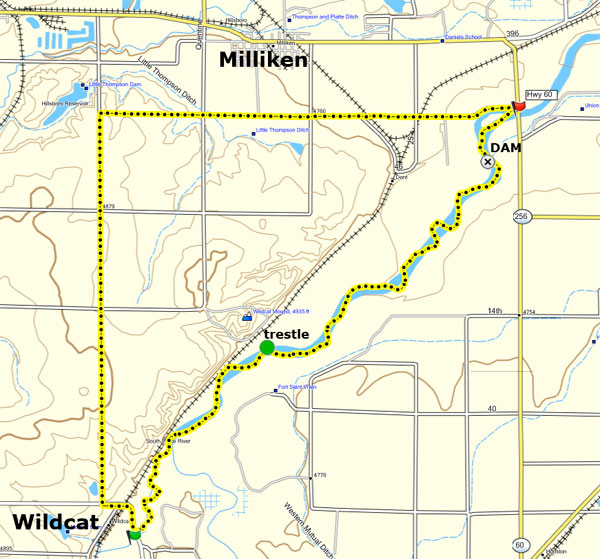 Biking leg
8.56 miles, 0:48h. From highway 60 bridge I rode my bike on CR46 (sections of dirt and pavement, and even a bike path near new developments, very light traffic), and then CR19 (pavement, light traffic). While the South Platte is a flatwater river here, riding over the Wildcat Mound is not so flat.

Transition
~20 minutes. I chained my bike to a rail of CR19.5 bridge and launch my packraft on the St Vrain under the bridge. It was quite muddy after recent high water and mosquitoes were hungry.
Packrafting leg
7.66 miles, 2:12h, 3.3mph average speed, with max 6.2mph. The St Vrain had still high water (~200cfs), but the South Platte run really dry. Floating downriver was pretty slow, especially along the Wildcat Mound. I had to walk several times. After first couple of miles the situation improved until the Union Ditch Dam which was diverting a lot of water. The last section (0.6 miles) between the dam and the hwy 60 bridge was very shallow. The barb wire fence next to the bridge has been fixed making launching or getting out of the river much more difficult.
Wildlife
White tail deer, beavers, hawk and other birds. I completed my trip with a close encounter with a fox hunting in my driveway.
Photography
The light was not so great for most of the time and I was moving slower than expected, so my DSLR camera remained in a backpack. All pictures were shot with Pentax Optio W30.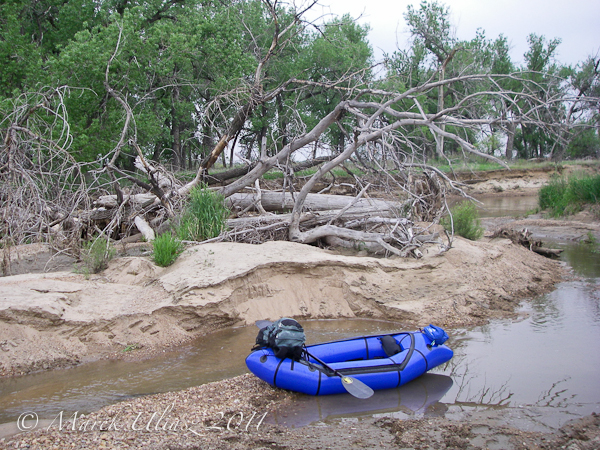 A log jam on the St Vrain Creek. It would be possible to float around it when water level was higher. Two other log jams didn't block the river.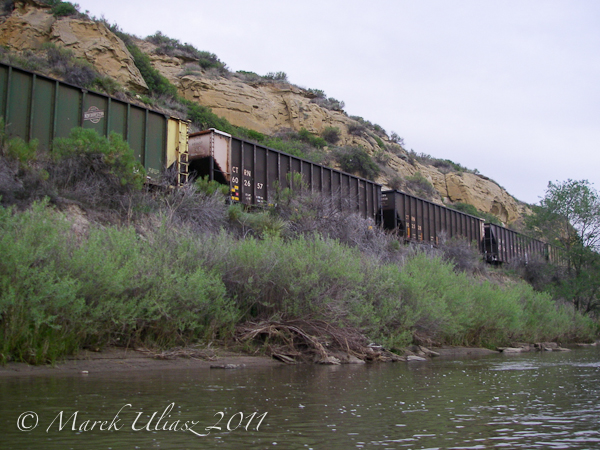 Wildcat Mound with the Union Pacific train parked there in the dead end sidetrack.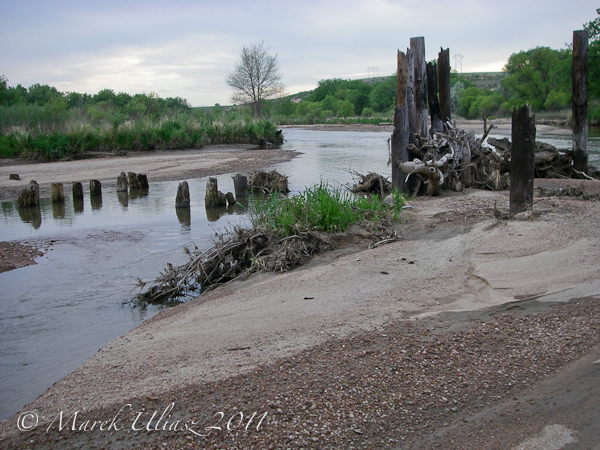 Remains of the old railroad trestle just below Wildcat Mound. You can find a lot of traces of old railroad lines along the South Platte.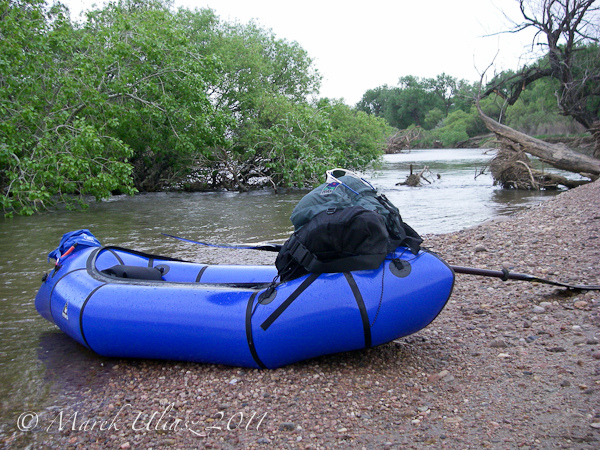 The river made a new channel around that trestle. It is an obstacle course right now.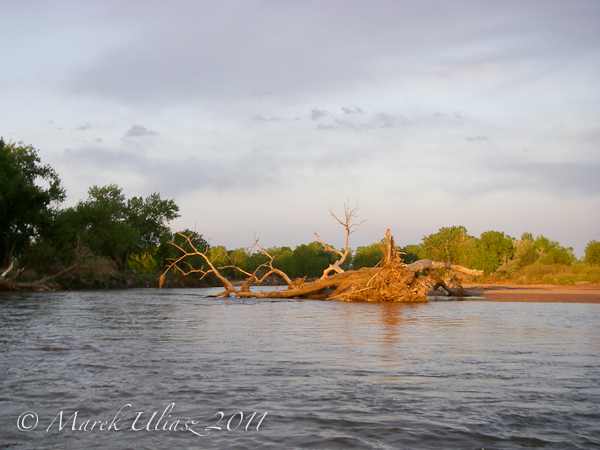 A minute of sun just at sunrset – somewhere above the Union Ditch Dam.
Related posts:
Lower Saint Vrain Creek – Paddling and Evening Blue Hour Photography
Biking and Packrafting – A Selfsupported Classic Run on the South Platte River near Greeley
Inline Skating and Packrafting – Road and River Test on the South Platte
Speed Test of Alpacka Yukon Packraft
South Platte River below Denver, Colorado – GPS/photo river guide
Tags: alpacka, bike, Milliken, packraft, packrafting, river, Saint Vrain Creek, South Platte, St Vrain, Wildcat, Wildcat Mound