Home » boats & gear, gallery
First Snow Paddling with JKK Multisport Supernova Kayak
I had a chance to do some test paddling with Jeremy Rodger's JKK Supernova kayak. It happen just after first snow storm in Fort Collins, so I had a pretty scenic paddling on Beaver Pond in the Arapaho Bend Natural Area. I am trying to compare this kayak to my Thunderbolt-X from West Side Boat Shop from a perspective of a long distance self supported paddling and racing.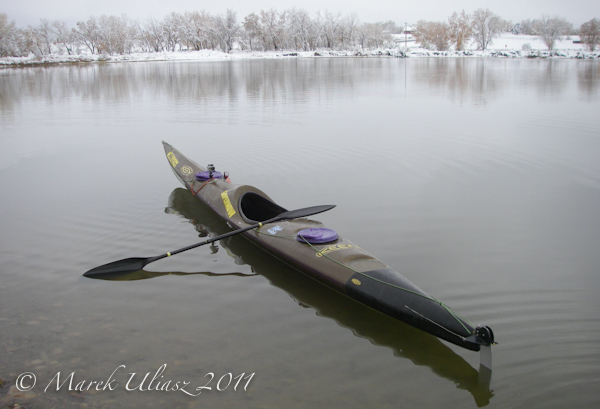 JKK Supernova is a multisport kayak from New Zealand – the same length as my WSBS Thunderbolt (21′), 1″ wider beam (19″), but a much bigger volume and a lot of cargo space with bulkheads and hatches. It is a racing sea kayak. Jeremy wrote a review of the Supernova for my blog a few years ago.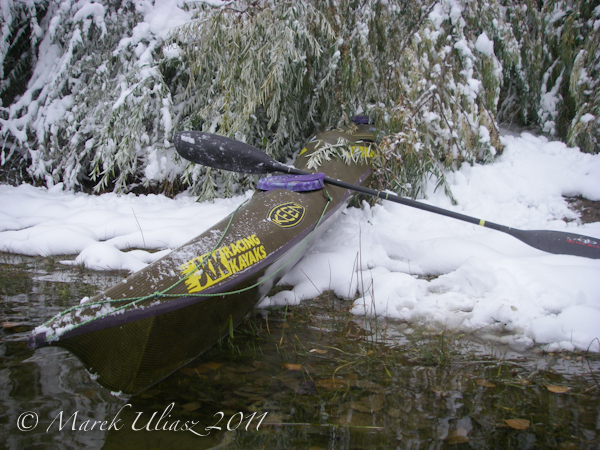 Access to the lake was blocked by broken trees and bushes leaning under heavy snow. A lot of invasive Russian olives.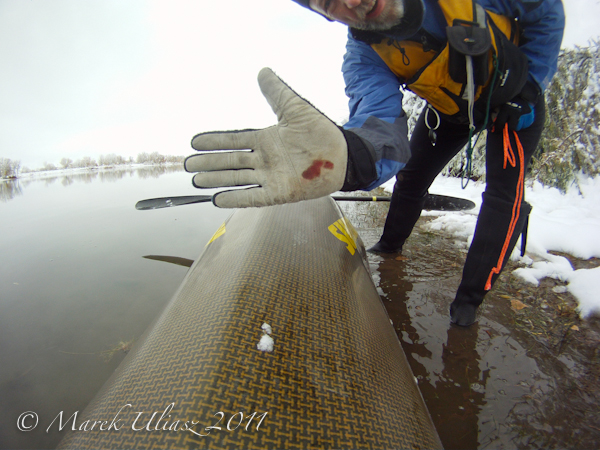 And, those Russian olive trees had pretty nasty thorns – my first paddling injury since perhaps my last Texas Water Safari in 2005. It didn't stop me from paddling, but it doesn't feel so well a day after.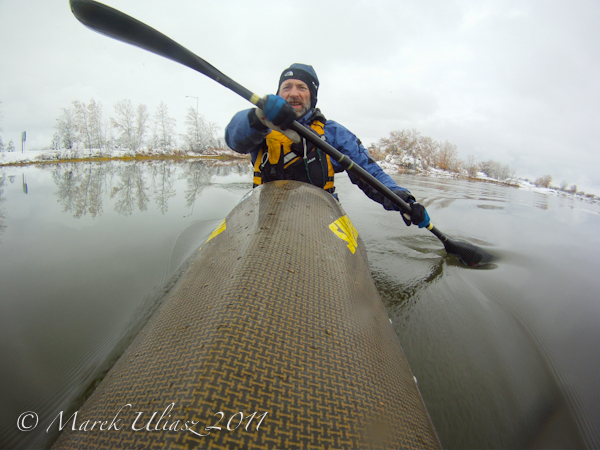 First impressions of the Supernova: fast, stable, quite responsive, much more maneuverable than Thunderbolt.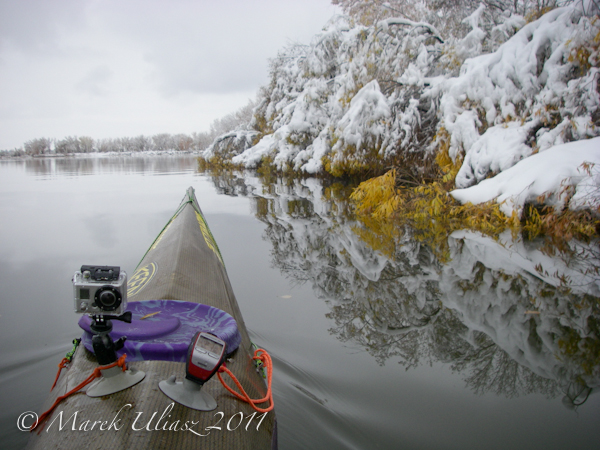 GoPro HD Hero camera set to shoot time lapse still pictures and Garmin Forerunner 305 GPS both mounted on a deck with the Sticky Pod suction cups.
Pictures in this post are coming from the GoPro HD Hero and Pentax Optio W30.
The Supernova cockpit is pretty small and tight. It is really narrow!. The cockpit opening is only about 14.75″ wide while I have 16″ in my Thunderbolt kayak, and a generous 17″ in Sisson Nucleus 100 which has the same beam as the Supernova. So, the owners of wide hips beware.
I had to remove a hanging seat from the Supernova and sit on a piece of foam pad which was not really comfortable. I am going to see if I can fit my bumfortable seat and try paddling Supernova again. To make the Thunderbolt comfortable I had to trim off the seat hangers and install a foam seat.
Related posts:
JKK Supernova, a Multisport Racing Sea Kayak from New Zealand - Review by Jeremy Rodgers
How to Choose a Boat for an Ultra Marathon Race? The Case of Missouri River 340
Valley Kayaks Rapier 20 and WSBS X-par Missile: Can I Fit My Butt into a Narrow Racing Kayak?
Outfitting Thunderbolt Racing Kayak - Sliding or Guerney Gears Bumfortable Seat?
A Bird's-Eye View of Kayaking with GoPro Hero Camera
Tags: cockpit, Colorado, JKK, JKK Supernova, kayak, multisport, review, sea kayak, snow, Supernova, winter