Home » gallery, MR340, Texas Water Safari, WaterTribe
My Experience in Three Famous Ultra Marathon Paddling Races
Submitted by Marek on June 25, 2009 – 4:16 pm
This article comparing my experience in three ultra marathon paddling races was originally prepared for Canoe & Kayak Racing Magazine. That text was revised below and I added more pictures and links.




---
Texas Water Safari (TWS) … WaterTribe Everglades Challenge (EC) … Missouri River 340 (MR340)

---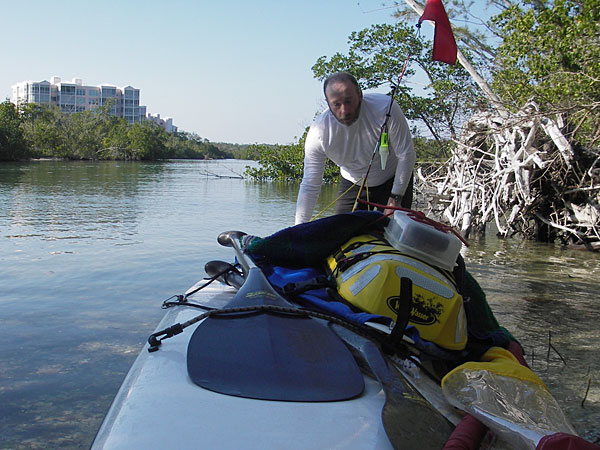 2006 WaterTribe Florida Ultimate Challenge
12 years ago, after paddling folding kayaks for more than 20 years, I got my first hard shell boat. I built a stitch-and-glue 19.5 Patuxent from CLC, perhaps the fastest kayak available for home building at that time. Racing? No, I just wanted to travel fast by water to some remote photography destinations.
A couple years later I was surfing the internet looking for winter paddling opportunities on Padre Island. I have never gone paddling there. Instead, I discovered the Texas Water Safari. Hours of watching video tapes produced by Pat Spencer, three visits to Texas including the 2001 race and two boats later I ran my first paddling race: 2002 TWS. I was hooked.
Since then, I have completed the Texas Water Safari three times, entered three WaterTribe events and finished one Everglades Challenge, completed three Missouri River 340 Races, and several shorter events from 10 to 100 miles.
How can I compare these three ultra-marathon paddling races? Which one is the toughest, the most challenging?
The distance to be covered by the racers seem to be quite similar. All three races run non-stop with mandatory checkpoints. You need to be prepared to paddle day and night, and paddling conditions can change drastically with the weather. TWS and MR340 are river races while EC is a coastal race with longer timeframe.
Everybody has a different story and experience. I am not a competitive athlete. My goal is just to finish the race, competing mostly against myself. My additional challenge is to shoot pictures and video when racing. The perspective of Carter Johnson, who paddled all three races in a surfski setting a solo record every time, would be quite different.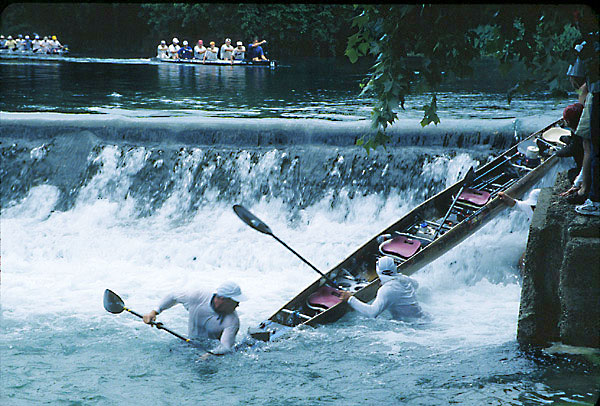 2001 Texas Water Safari: a portage over the old Rio Vista Dam
History …
TWS, "the World's Toughest Canoe Race", has been organized since 1963, following the 30 day expedition by Frank Brown and Bill "Big Willie" George. More than one hundred boats enter this race each year. There are also other river marathon races organized on different segments of the TWS course.
EC, "Adventure in Small Boats", was created by Steve Isaak (aka "Chief") to promote expedition style racing in kayaks, canoes and small sailboats. Everglades Challenge has been run since 2001. Other challenges have also been organized including Lake Michigan, Cross Florida and Ultimate Florida Challenge, as well as shorter racing and training events. Typically, around 30 boats show up at the start of the Everglades Challenge.
MR340, "the world's longest non-stop river race", organized by Scott Mansker and team at RiverMiles.com is three years old. In this short time the race grew up to 250 boats expected at the start this year.
Race course …
TWS. 260 miles from San Marcos to Seadrift, 100 hours time limit, 10 checkpoints. Small, spring fed river with numerous portages over dams and log jams, strainers, some rapids (San Marcos), then more open river (Guadelupe), and, finally open water of San Antonio Bay. No other river traffic, just racing boat congestion at the start and first miles of the San Marcos River. River access, especially, along the Guadelupe, may be muddy, steep and difficult. The race starts on the 2nd Saturday of June.
EC. ~300 miles, from Fort Desoto to Key Largo. 8 days time limit, 3 checkpoints. Coastal tidal waters of Florida, many choices for race course between checkpoints, several long open water crossings, ship channels, heavy traffic along Intercoastal Waterway, Everglades National Park.
MR340. 340 miles on the Missouri River from Kansas City to St Charles. 100 reduced to 88 hours time limit, 8 checkpoints. A big navigatable open river with strong current, wing dikes, buoys, floating debris at high water, some barge traffic, no portages. The race takes place at full moon in July/August.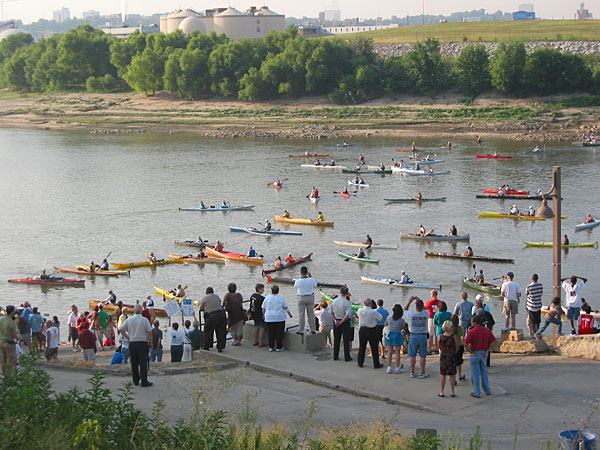 2007 MR340: Race start at the Kaw Point
Race format and support …
TWS. All gear and supplies except water and ice must be carried. Each boat has to have a team captain whose responsibility it is to follow the team by vehicle to keep track of their location and condition and give them water and/or ice – it is a real team effort. For a single, sleep-deprived team captain, driving from checkpoint to checkpoint, the TWS is a quite challenge. No other help from land support, spectators or other racers is allowed.
EC. Self supported expedition format. No land support or any prearranged help is allowed. However, you can buy supplies. 24 hour reporting rule.
MR340 is the river race like TWS, but is more liberal concerning the land support. Many forms of land support are allowed, or you can paddle self-supported in the expedition style. It is possible to buy water, sandwiches, or even hot food at most of the checkpoints.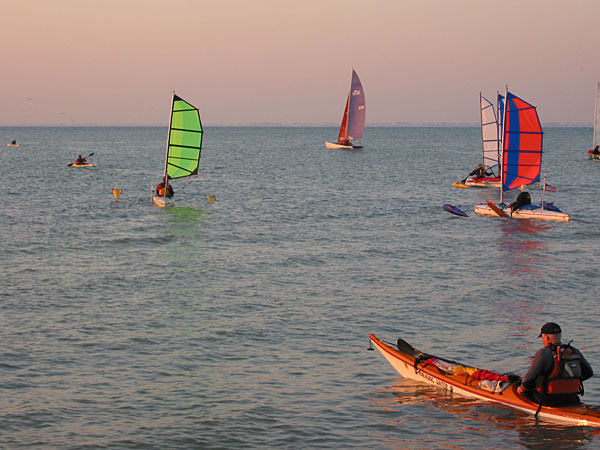 2006 WaterTribe Ultra Marathon, Everglades and Ultimate Florida Challenges: The start at Fort Desoto
Exposure to nature and elements …
You will be really dirty and wet most of the time during TWS. You will have a good chance to encounter local wildlife in the form of snakes, spiders, fire ants, mayflies. Proper body maintenance in these conditions is essential and, perhaps, more important than in other races.
In MR340 and EC you can stay away from land, so your exposure to these natural elements will be much lower. These races are much cleaner than TWS. They can be just pure sweat. If you choose to paddle inside the Everglades be prepared for mosquitos and other bugs.
Every body of water has some sort of fish (like the alligator gar in TX or Asian carp in MO) that may jump into your boat resulting in an injury (and in dramatic stories after the race). My nicest experience was to paddle with dolphins across the Florida Bay.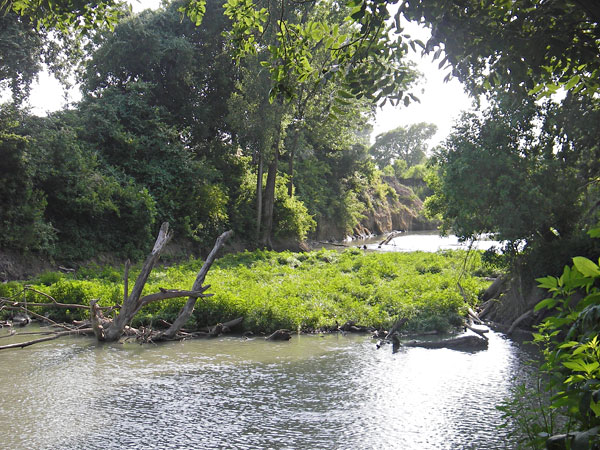 2005 TWS. A nice green logjam on the San Marcos River below Luling
How far away it is?

You are lucky if you are living within the area of one of these races, as you will have a real advantage in training, scouting the course and racing. I consider driving from Colorado to the race as a part of each challenge: EC (Tampa) 35 hours, TWS (San Marcos) 18 hours, MR340 (Kansas City) 10 hours. EC is the most difficult for me, while MR340 feels like my backyard. I also need some time for acclimatization to local conditions. Hot and humid Texas is always the most challenging for me. The only case when I ran into serious troubles during a race was due to a poor execution of that driving/acclimatization phase.
A local knowledge and scouting the race course is the most important for TWS in my experience. I started my paddling almost 40 years ago on a big river in Poland, so the Missouri with wing dikes and barges feels quite familiar to me. My experience in sea paddling is really limited. And, indeed, EC provides me always pretty tough time.
Boats …
You can take almost any boat for a river race. TWS favors lighter boats, especially for solos, which are easier to portage and drag over obstacles. A boat for a coastal challenge needs to be seaworthy and safe. Minimalist designs by Matt Layden like his 13.5' Rob Royoid kayak prove that very simple and small boats can satisfy those conditions and even be faster than sea kayaks. The risk of damaging or destroying your boat is the highest in TWS. Most of paddling boats in WaterTribe challenges are equipped with some sort of sailing rig.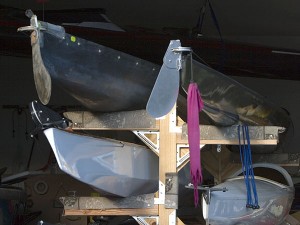 I paddled a Spencer X-treme canoe in both TWS and MR340 events and a Sea Wind Canoe in both EC (with Pacific Action downwind sail) and MR340, and tried Surfrigger (outrigger canoe) in my first EC. I also completed the MR340 in Thunderbolt-X kayak, but I really prefer the seating comfort of a canoe for long endurance races.
EC is more expensive than the river races due to safety equipment requirements (EPIRB/PLB, VHF radio, cell phone, signaling kit) and navigational aids (maps, GPS)
A Tribe …
All three races have something important in common which provides a strong motivation to participate. There is a growing community of racers, organizers, supporters and fans around each race – a kind of tribe. You can expect exchange and sharing of information both online in discussion forums and during actual paddling and training. River tribes of TWS and MR340 are quite similar, with TWS having, of course, a much longer tradition. They both include local communities and many paddling enthusiasts along the race course. The WaterTribe challenges, where racers are dispersed over a large area and are traveling different routes, are different in this respect. You can see all racers only at the start. The demographics of EC, which includes sailors, is also a little bit different.
There is some overlap between tribes. It is really interesting to see Texas exporting racers, boats and ideas to Missouri. Many WaterTribers, especially the Kruger's boat clan, are starting to participate in the MR340.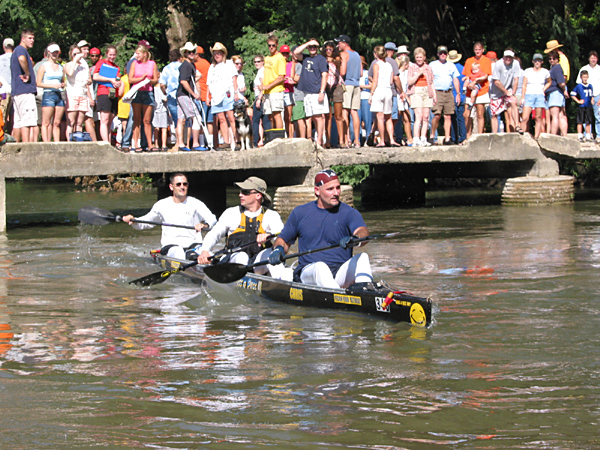 2003 TWS. Spectators, racers, and team captains at Westerfield Crossing
The MR340 may be the most forgiving race for a beginner. However, it really depends on your racing goals, preparation and planning. Each race provides some unique challenges. What is more dangerous: hitting a barge on the Missouri, a strainer on San Marcos River or a manatee in Florida?
Related Posts …
Texas Water Safari – Reports, Pictures, Video Clips
Adventures of a Team Captain – 4 Years of Texas Water Safari in Retrospect
2007 Texas Water Safari in a Surfski by Carter Johnson – I. Race and Boat, II. San Marcos and Guadelupe, III. Finish and Solo Record, How to Sit in Water and Paddle a Surfski for 260 or 300 Miles
WaterTribe Challenges
How to Choose a Boat for an Ultra Marathon Race? The Case of Missouri River 340
GPS/Photo Race Log from the 2006 Missouri River 340 Race
Speed: My 2008 Missouri River 340 Race as Recovered from a GPS Track
3 Years of the Missouri River 340 Race