Home » gallery, Glenwood Canyon, racing
Colorado River 2011 Race Dominated by SUPs (Stand-Up Paddlers)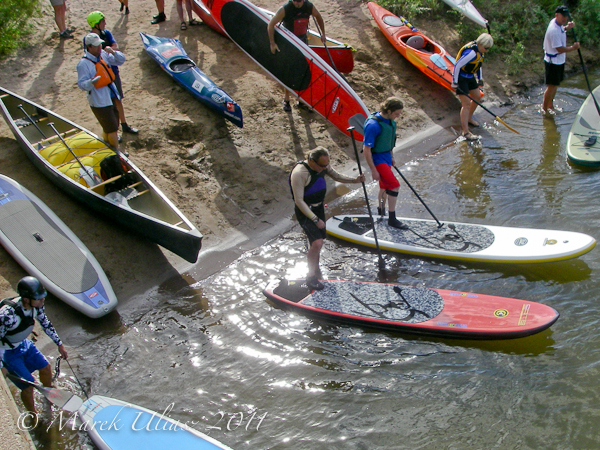 Yesterday, I paddled the Colorado River Race in the Glenwood Canyon – 10 miles on the Colorado River from Dotsero to Hanging Lake Area. The race is organized by Jerry Nyre from Canoe Colorado. At the same time it was also Regional Open Canoe Downriver Championships and Wildwater Race setup by Nate Lord.
I missed a couple of previous races. Last year at that time I was paddling in postponed Missouri River 340 race. This year the MR340 was canceled due to flooding. So, I took my Sea Wind canoe to the Colorado River instead.
The weather was beautiful and water level pretty high at 2400 cfs. The race was dominated by stand-up paddlers (SUP). There were about dozen of them. Certainly SUP is getting popular in Colorado. There were also two tandem canoes, two solo canoes (including my Sea Wind), a wild water racing kayak (Jeremy Rodgers), Huki surfski and one recreational kayak. I could miss somebody.
I took some pictures with Pentax Optio W30 at the start and a few at the finish. It was the staggered start. SUPs went first.
I finished the race in 1:21h more than 1 minute behind Nate. It was a great workout for me. I managed to keep a pretty even heart rate (142-146) over the entire race. See the race results below pictures.
Do I need to switch to SUP if I want to do some paddle racing in Colorado?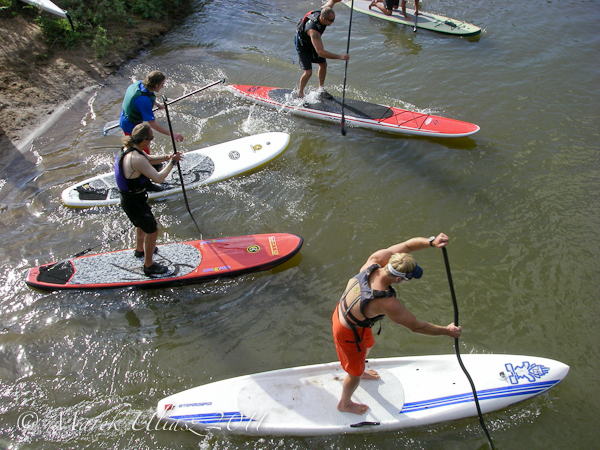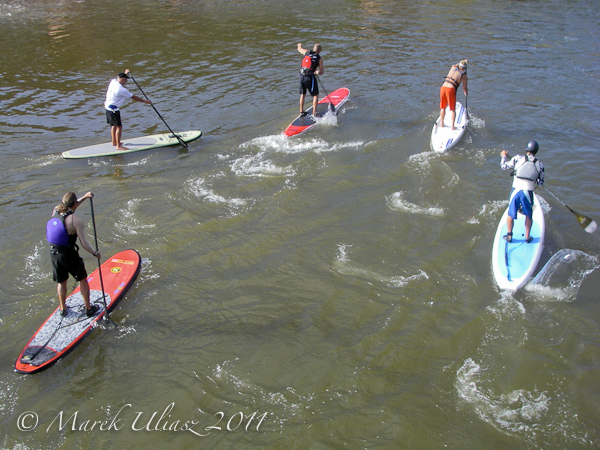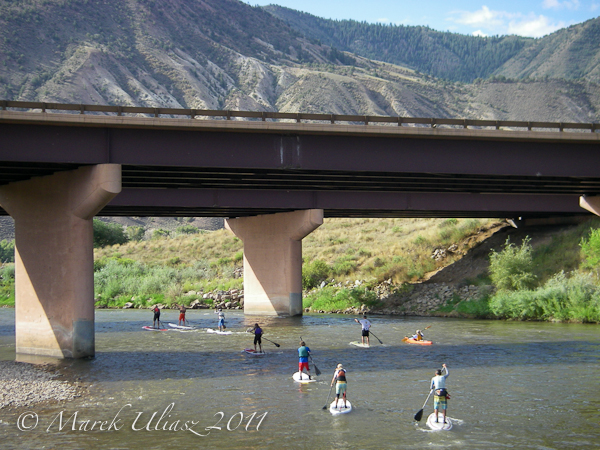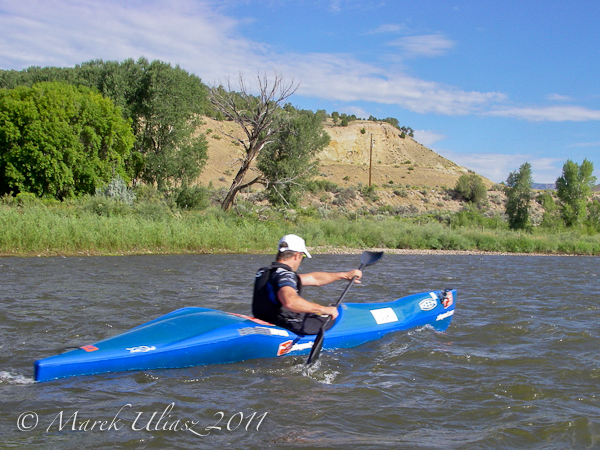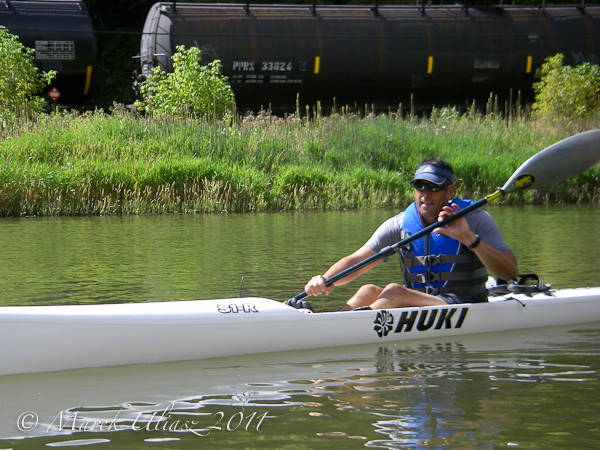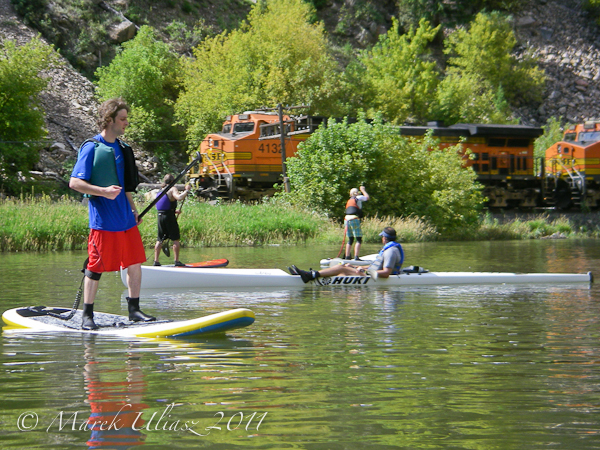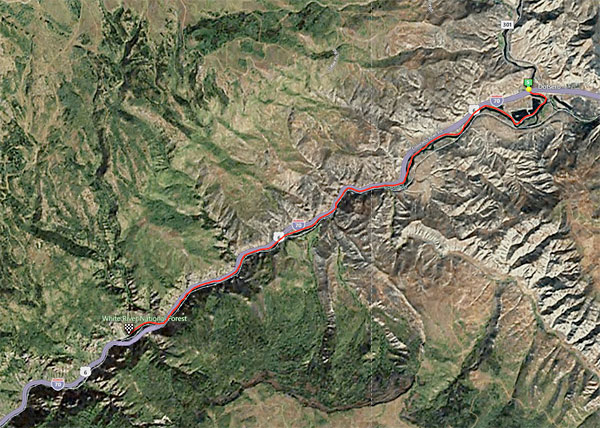 2011 Colorado River Race Results
| | | |
| --- | --- | --- |
| | SUP (Stand Up Paddle Board) | |
| 1 | Brent Redden | 1:22:00 |
| 2 | Ken Hoeve | 1:25:18 |
| 3 | Steve Hamilton | 1:20:34 |
| 4 | John Bridenbaugh | 1:30:21 |
| 5 | Andy Lanes | 1:33:21 |
| 6 | Carl Selles | 1:35:12 |
| 7 | Jeff Lanes | 1:37:44 |
| 8 | Heather Prentice | 1:44:10 |
| 9 | John Cowper Thwaite | 1:51:32 |
| 10 | Tyler Thompson | 2:12:38 |
| 11 | Eric Samdall | 2:12:41 |
| | | |
| | Unlimited Kayak | |
| 1 | Jeremy Rodgers | 1:05:18 |
| 2 | Mark Levesque | 1:09:21 |
| | | |
| | Recreation Kayak | |
| 1 | Kathy Selles | 1:31:45 |
| | | |
| | Recreation Canoe | |
| 1 | Paul Wetsel & Travis Baumgart | 1:37:17 |
| 2 | John Putnam & Ethan Putnam | 1:47:10 |
| | | |
| | Solo Canoe | |
| 1 | Nate Lord | 1:20:04 |
| 2 | Marek Uliasz | 1:21:04 |
Related posts and resources:
Slide show: Colorado River Race
2009 Dotsero to Hanging Lake Paddling Race on Colorado River
2008 Colorado River Kayak and Canoe Race in Glenwood Canyon
2007 Canoe Colorado Race in Glenwood Canyon – More Rapids with Opened Shoshone Dam
10 Mile River Race in 60 Seconds – Thunderbolt Kayak in the Glenwood Canyon
10 Miles on the Colorado River into Glenwood Canyon – Dotsero Race
Valley Kayaks Rapier 20 and WSBS X-par Missile: Can I Fit My Butt into a Narrow Racing Kayak?
Pentax Optio W10 as Kayak Cam on Colorado River in Glenwood CanyonPentax Optio W10 as Kayak Cam on Colorado River in Glenwood Canyon
Glenwood Canyon – Kayaking and Inline Skating along the Colorado River
2002, 2003, 2005 Photo Reports and Results at Mountain Wayfarer
1984-2011 Colorado River Race Results by Jerry Nolan
Tags: 2011, canoe, Colorado River, Dotsero, Glenwood Canyon, kayak, race, stand up paddle