Home » boats & gear, MR340
Do I Need GPS for the Missouri River 340 Race?
I've got several questions recently concerning usage of GPS devices during the Missouri River 340 Race (340 miles nonstop from Kansas City to St Charles).
Well, I believe that you really don't need a GPS to navigate the Missouri River during the race. There are markers with river mileage on shores. There are easy to find even at night with a flashlight. Usually, you are aware of your position on the river within a mile or so. Official race checkpoints are difficult to miss – a crowd of people and boats, MR340 signs, flashing lights at night. I worry that it may be difficult to land at some checkpoints crowded during the first race day with 280 boats. I am sure that a narrow boat ramp at Miami will be a favorite one for my long and wide outrigger canoe …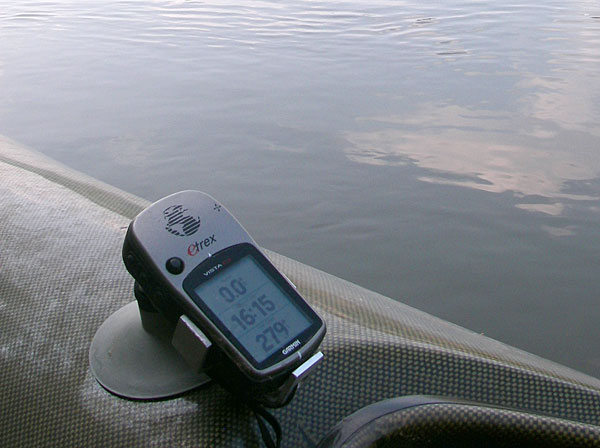 Garmin Etrex Vista GPS with suction cup mount (sticky pod)
and a tether (!) on deck of Thunderbolt-X kayak, 2007 MR340
Of course, it is good to have a GPS during the race and I am using one. I carried the same device during first three MR340 races – Garmin Etrex Vista. How I am using it?
1. Motivational device
This is a primary function of my GPS. I am displaying my speed in big numbers like in the picture above (other numbers are time of day and distance traveled).
I can also display a route – a set of subsequent waypoints including official checkpoints, boat ramps, landmarks or some occasions to celebrate like 100 miles traveled. I can check the distance (in a straight line) to the next waypoint on my route which may be good for my morale (or not).
2. Night or low visibility navigation
At night or in a fog I usually display my position on a map (topo maps from Garmin MapSource) and I am trying to figure out where the navigational channel goes and where to expect wing dikes.
3. Emergency
When you have to find other places on the river than checkpoints your GPS may help. I wouldn't find Weldon Spring boat ramp at night during 2007 race when it was not a checkpoint. Of course, in the case of a real emergency providing your exact position to a rescue team may be really important.
4. After/before race analysis
You can learn a lot about your race analyzing your GPS track, checking your speed and progress. You can geotag pictures if you take any and start planning for the next year race.
Can you think about any other applications of GPS during the MR340 race? Texas Water Safari or WaterTribe Everglades Challenge may be a little different story, but the #1 still applies.
Related posts:
My Experience in Three Famous Ultra Marathon Paddling Races
Speed: My 2008 Missouri River 340 Race as Recovered from a GPS Track
3 Years of the Missouri River 340 Race