Home » boats & gear, racing
How to Choose a Boat for an Ultra Marathon Race? The Case of Missouri River 340
Submitted by Marek on April 14, 2007 – 5:44 am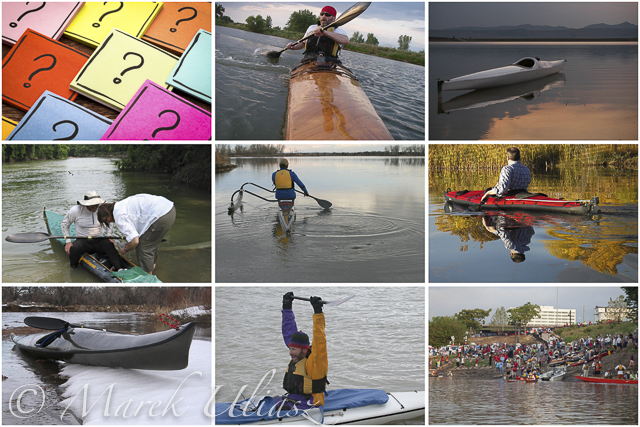 Is it possible to use some sort of objective analysis to choose a boat for a long, long paddlle race?
Let's try to review my paddling fleet from a perspective of 340 mile Missouri River Race from Kansas City to St Charles.
340 miles long non-stop race, no portages, several checkpoints every 50 miles or less with some support
a big river with fast current, powerful boils and eddies, especially, at high flow
high winds likely, wind waves, barge wakes, sudden storms
additional hazards: wing dikes, buoys, floating logs and debris, jumping fish
necessary to paddle at night, often with visibility limited by fog
high temperatures during daytime
see MR-340 Racing Guide for more information
completing the race below 72 hours in a good shape, shoot some pictures
I am going to have some rest/sleeping breaks.
I will have a land support provided by Connie at each checkpoint
I am going to drive from Colorado with a boat
I have selected several boat characteristics to review giving them different weights (points). For other races some other characteristics may be considered and weights can be changed. This is also done to meet my paddling skills and my race objective listed above. The review of the very same boats by somebody trying to win the race in 50 hours would look very different.
Comfort: 1-10 points
The most important boat characteristic for me in this race, worth 10 points. I have been able to complete long distance races with a comfortable elevated seating. On the other hand, I have troubles to seat in kayaks, especially sea kayaks with a closed cockpit, for longer than a few hours without a break. I would also value here a possibility of (1) resting in the boat by laying down on my back, (2) sleeping in the boat, (3) using both double and single blade paddles, (4) drinking, eating, peeing, body maintenance without stopping.
Speed: 1-5 points
I can maintain only a cruising speed in a such long race, so the speed is getting only half points in comparison to the comfort. Kayaks provide some bonus in comparison to canoes when paddling against strong head wind as demonstrated in my 2006 finish.
Seaworthiness: 1-4 points
I believe that any boat from my fleet can complete the race, but tippy racing boats may provide additional challenge and a risk of capsizing for a tired and sleepy paddler in more difficult conditions. I also take into consideration a risk of damaging a delicate racing boat during the race.
Expedition ready: 1-2 points
Canoes provide better loading options and better access to gear and supplies than kayaks, especially, a racing variety. However, since I am going to have land support at numerous checkpoints I didn't rank that boat attribute very high here.
Sea Wind
17.2′ x 28″, 60+ lb decked expedition canoe with a rudder
17 points
The most seaworthy and comfortable boat in my fleet, though not very fast. I can rest and sleep in this boat and will not need to land except for checkpoints. It is probably the only boat that would survive a collision with a buoy in the middle of the Missouri River or a similar disaster. I use a single blade, but I usually carry a double blade paddle as well.
Additional pros: Several Kruger's boats have entered the race already which makes an interesting competition.
Spencer X-treme
20′ x 28″, 30 lb canoe with a rudder, designed to be raced as solo unlimited in Texas Water Safari
15 points
I finished the 2006 race in the X-treme. The boat worked pretty well, although, was somewhat challenging in a more choppy and windy conditions. It may be interesting to run the race in another boat but the X-treme is ready for the race.
Surfrigger
24'x13.5″, ~28 lb outrigger canoe.
11 points
It seems to be well suited for this race, but my cruising speed in Surfrigger is quite low, lower or at least not higher than in my kayaks. This boat is fun to paddle, but requires devotion and a lot of training. Maybe, some day …
Feathercraft Expedition K1
16.6′ x 25″, 51lb, heavy duty folding kayak
10 points
I consider Feathercraft as an option for WaterTribe Challenges with flying to Florida instead of driving. I am experimenting with a more comfortable seat (the bumfortable again) and a single blade as an addition to a kayak paddle. However, I am driving to Missouri …
WSBS Thunderbolt-X
21′ x 18″, 28 lb racing kayak.
10 points
My new paddling toy. So far, I have paddled her on calm water only – feels more stable and much faster than Sisson Nucleus. I still do not know what a cruising speed I can maintain or how far I can paddle this kayak. I think that WSBS EFT (Extra Fast Tourer) or other high performance kayak with a comfortable cockpit would be more suitable for the MR-340.
CLC Patuxent 19.5
19.5′ x 21″, 45lb stitch and glue kayak
10 points
A good cruising speed, but not very comfortable for a long run. With a bumfortable seat I would probably have a chance.
Sisson Nucleus 100
17'3″x18.9″, 30.8 lb, multisport kayak from New Zealand
8 points
A high front deck and a tiller bar offers me quite comfortable paddling, but a small cockpit will provide a challenge a tired paddler trying to get out. I think that the Nucleus 100 is a little bit too big (i.e., too deep) for my weight and it feels pretty tippy in choppy conditions.
Will I follow the conclusions of my analysis? Sea Wind is a top candidate, but I need more training with a single blade paddle. Spencer X-treme is ready to go and it was proven in the last year race. Kayakwise, the Thunderbolt is tempting and could provide a real challenge for me to finish the race.
What do you think about my boat review approach? Does it make any sense? Even with the same paddler (i.e., me) I would get completely different picture for other races.
Related posts and links: